March 10, 2023
Workshop Series Highlights Urgency and Hope on Global Children's Issues
From February 26 through March 2, 2023, the event series brought more than 200 people to campus throughout the week to engage with outstanding leaders like Jal who are supporting children at risk. Co-hosted by the Collaborative on Global Children's Issues and campus partners, the 12-part event series explored a variety of issues – such as the healing power of play, the war in Ukraine, the impact of climate change on children, working with young migrants, and children with disabilities.
Gillian Huebner, the collaborative's executive director, emphasized the critical importance of centering children in our multifaceted responses to innumerable global challenges.
"We can't effectively address any of the global crises of our time if we are not grappling with how young people are impacted. They bear the brunt of these difficulties in their daily lives and will inevitably inherit all the problem-solving these challenges require."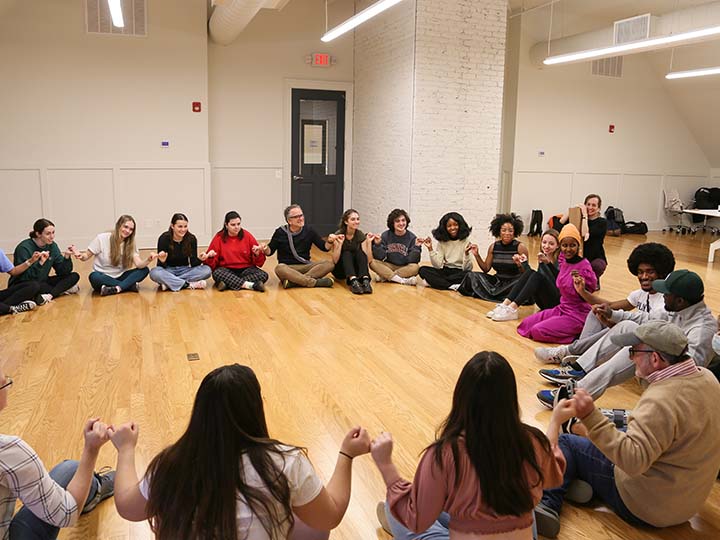 The event series was co-sponsored by the Walsh School of Foreign Service; Center for Child and Human Development; Center for Social Justice Research, Teaching and Service; Global Human Development Program; Global Health Institute; and Laboratory for Global Performance and Politics at Georgetown University.
Georgetown University Vice President for Global Engagement Thomas Banchoff highlighted the importance of building a cross-campus network through programs like this.
"The wide range of university programs, departments, and units reflects not only the diversity of issues impacting children today but also the collaborative, interdisciplinary approach needed to address these issues."
With 90% of the world's child and youth population living in less developed countries and disproportionately affected by poverty, poor health, unemployment, violence, and exclusion, efforts to support children at risk can seem overwhelming. However, reflecting on the week-long series of events, Huebner commented that the theme of young people's resilience continuously stood out.
"This workshop series demonstrated how the conversations come alive in a new way when we put children at the center – there is both more urgency and more hope."
Image Gallery
Image Gallery
1/10
Participants engage in the February 27 workshop "Children and Changemaking in the Midst of a Climate Crisis."
Toby Long presents during the March 2 workshop "Protecting the Rights of Children with Disabilities."
Stephen Hanmer DElía leads the March 1 workshop "Do You See Me? How to Support Children Separated from their Families."
Collaborative Senior Fellow Joan Lombardi attends the February 28 workshop "Indigenous Communities, Intergenerational Knowledge, and Climate Change in Mesoamerica."
Emmanuel Jal, Ifrah Mansour, and Kyryl Myronenko engage in conversation moderated by Collaborative Executive Director Gillian Huebner for "Songs and Stories of Adversity and Resilience."
Panelists discuss safeguarding in the February 27 event "Building Hope and Resilience: The Dynamics of Cultural Change and Transformation in Child Safeguarding."
Collaborative Research Fellow Gabriella Sanchez leads the February 28 workshop "Building Participatory Landscapes for Policy and Research: Working Alongside Young People in the Field."
Kateryna Zoubak, Liza Yanovich, and Alla Levin present in the March 2 workshop "Living Through the Unthinkable: Supporting Children and Families during Russia's War with Ukraine."
Collaborative Research Fellow Marisa O. Ensor presents in her February 28 workshop "Indigenous Communities, Intergenerational Knowledge, and Climate Change in Mesoamerica."
Panelists from USAID discuss development at the March 2 event "The Case for Including Children and Youth in Foreign Assistance."